Galloping along on the story (actually going back and forth on it a lot, present to past to future, as I tend to do).
I have a little problem — I'm writing about Vikings and don't know a damn thing about ships, or ocean stuff, or any of the important stuff that you need to know about maritime warfare or even maritime day-to-day action.
Fortunately the internet has cool websites like this one, where you can read all about a modern-day Viking ship that has been built and is gorgeous and is currently sailing the waves.
Here's the website and it has these amazing pics.
Also reading good stuff on Quora about what it was like to travel on a Viking ship.
Also a few Viking tropes to avoid.
Better start writing!
You can preorder THE FLAME OF BATTLE right now!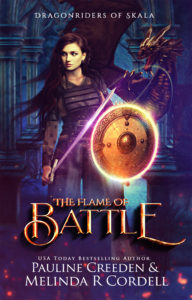 In the flame of battle, even the innocent get burned…
Dyrfinna is a born commander. She bests her peers in dragon riding, sword fighting, and battle strategy. So when the Queen calls the people of Skala to battle to revenge her murdered daughter, Dyrfinna outfits a ship and brings a crew.
Once in the field, Dyrfinna leads her troops to victory in a series of hard-fought battles against overwhelming odds. Yet a commander is raised over her, and because of his clumsy leadership, a great disaster results in the massacre of a quarter of the Queen's army. Then the commander unfairly blames a second disaster on Dyrfinna. The wrong stroke of her sword could undo everything she's ever worked for, earn her the fury of her friends … and exile to certain death.
But you can't keep a true warrior down. When things are darkest, a flame rises out of the desolation.