Preorder THE FLAME OF BATTLE here.
And look at that lovely cover, guys.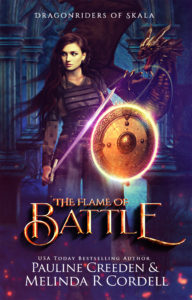 In the flame of battle, even the innocent get burned…
Dyrfinna is a born commander. She bests her peers in dragon riding, sword fighting, and battle strategy. So when the Queen calls the people of Skala to battle to revenge her murdered daughter, Dyrfinna outfits a ship and brings a crew.
Once in the field, Dyrfinna leads her troops to victory in a series of hard-fought battles against overwhelming odds. Yet a commander is raised over her, and because of his clumsy leadership, a great disaster results in the massacre of a quarter of the Queen's army. Then the commander unfairly blames a second disaster on Dyrfinna. The wrong stroke of her sword could undo everything she's ever worked for, earn her the fury of her friends … and exile to certain death.
But you can't keep a true warrior down. When things are darkest, a flame rises out of the desolation.
THE FLAME OF BATTLE will be out on May 29. If you preorder, you'll get to be pleasantly surprised by the full ebook winging its way into your email on that date, and we can all use a surprise book in our email now and then.
I'm working on the next book — A FIRE OF ROSES. Oh, when FLAME shows up in your inbox, you'll get a sneak peek at ROSES, plus a preorder link for that.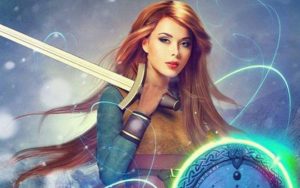 Stay tuned! It's going to be a fun ride.